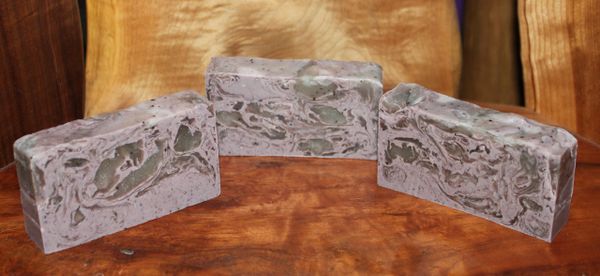 Blueberry Smoothie
Blueberry Smoothie
 A handmade soap just like the drink it's named after.  This handmade soap has the wonderful fragrance of blueberry.  A soap that smells like our North Country blueberries - what more could you ask for. How about some blueberry seeds to scrub you smooth. The following ingredients in this handmade soap bar also have beneficial functions which are noted next to the specific ingredient. This handmade soap is a great gardening bar, the blueberry seeds are down to business as a exfoliants go.
 Goat Milk Butter
Blueberry Seeds: Exfoliant
Alkant Root Powder: Relieve itchy skin
Kaolin Clay: Skin softening and hydrating properties
Fragrance: Blueberry
The soap bars are handmade and cut from a "loaf" by hand. So they vary in size and weight. The bar would weight a minimum of 5 ounces and measure 2 1/4 inches high, 1 inch thick and 4 inches long.