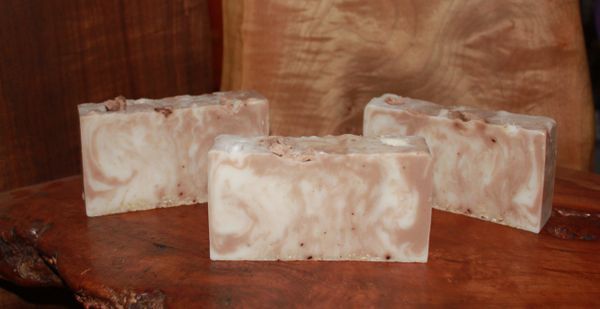 Frosted Almonds
Frosted Almonds  Out Of Stock
 The name alone invokes a sense of smooth.  The handmade soap contains honey, cocoa powder, almond and vanillia - a creamy concoction if there ever was one.  This soap will pamper your skin - a true creamy delight.  The following ingredients in this handmade
soap bar also have beneficial functions which are noted next to the specific ingredient. 
 Goat Milk Base
Oats: A natural exfoliate
Kaolin Clay: Skin softening and hydrating properties 
 Ingredients: Goat Milk, Honey, Cocoa powder
Fragrance: Almond, Vanilla
 The soap bars are handmade and cut from a "loaf" by hand. So they vary in size and weight. The bar would weigh a minimum of 5 ounces and measure 2 1/4 inches high, 1 inch thick and 4 inches long.