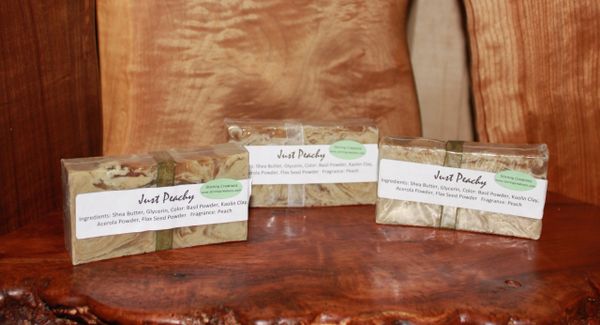 Just Peachy
Just Peachy
Deliciously sweet notes of juicy peaches capture the spirit of this perfect, market basket delight! This fantastically fruity blend is a whirlwind of succulent peaches. As rich and juicy as the juiciest peach picked straight from the tree in the Peach orchard.
Shea Butter & Glycerin
Basil Powder: Improve skin tone
Acerola Powder: High in vitamins C
Flax Seed Powder: Thought to sooth itching skin
Kaolin Clay: Skin softening & hydrating properties
Fragrance: Peach
The soap bars are handmade and cut from a "loaf" by hand. So they vary in size and weight. The bar would weigh a minimum of 5 ounces and measure 2 1/4 inches high, 1 inch thick and 4 inches long.