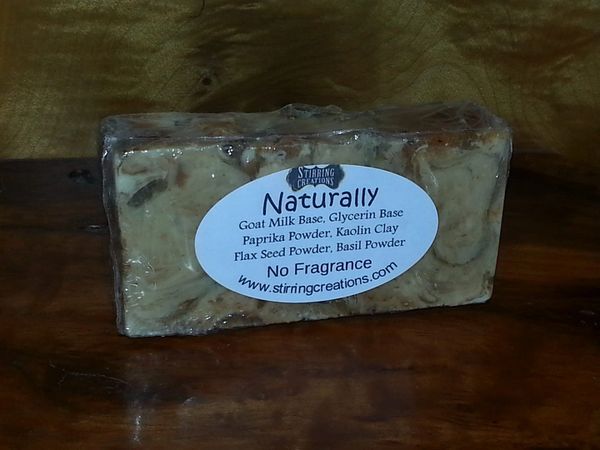 Naturally
Naturally 
Another of our "No Fragrance Soap Bars".  For folks who want to get down to the business of that shower to cleanup for the day, or after work.  If you are one of these people, you make your own atmosphere and don't need it in a soap bar.  Not everyone has the same needs.  But this soap bar does have some beneficial functions which are noted next to the specific ingredient.
 Goat Milk Butter & Glycerin      
Paprika Powder: Increase blood circulation
Flax Seed Powder: Thought to sooth irching skin
Kaolin Clay: Skin softening and hydrating properties
Kelp Powder: 60 Minerals and elements, 21 amino acids
If you would like to order 4 or more bars of soap. You will save on shipping costs if you call us.
1-518-532-9482
The soap bars are handmade and cut from a "loaf" by hand. So they vary in size and weight. The bar would weigh a minimum of 5 ounces and measure 2 1/4 inches high, 1 inch thick and 4 inches long.