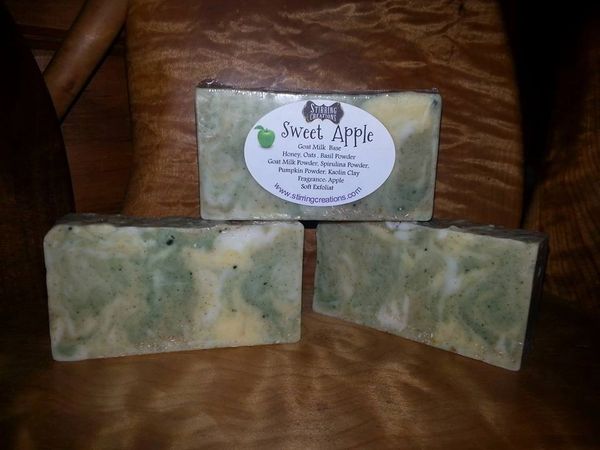 Sweet Apple
Sweet Apple   
Sweet Apple will capture the aroma of crisp, juicy, orchard apples freshly picked on a lovely, fall day. Sweetness of crisp ripe green apples.  This delicious scent is highlighted with sun-kissed sliced apples. Crisp, white juices softened by the just picked sweetness of Mother Nature's best!
If you would like to order 4 or more bars of soap. You will save on shipping costs if you call us.
1-518-532-9482
Goat Milk
Honey, Oats, Goat Milk Powder
Spirulina Powder: HIgh in vitamins & antioxidants
Basil Powder: Improves skin tone
Pumpkin Powder:  Is a rich source of gently exfoliating enzymes, antioxidants, beta carotene, and many other vitamins and minerals beneficial to skin care.
Kaolin Clay: Skin softening & hydrating properties
Fragrance: Green Apple
There are few fragrances more pleasant than apple, and we know you'll agree from the moment you use our Sweet Apple soap. Handmade with natural ingredients by the team at Stirring Creations, there are more than a few reasons to love this soap, including goat milk base. This soap will help you improve skin tone due to ingredients like basil powder and kaolin clay, and it even contains a hint of honey, oats, and goat milk powder. For more details about our Sweet Apple soap, contact us today!