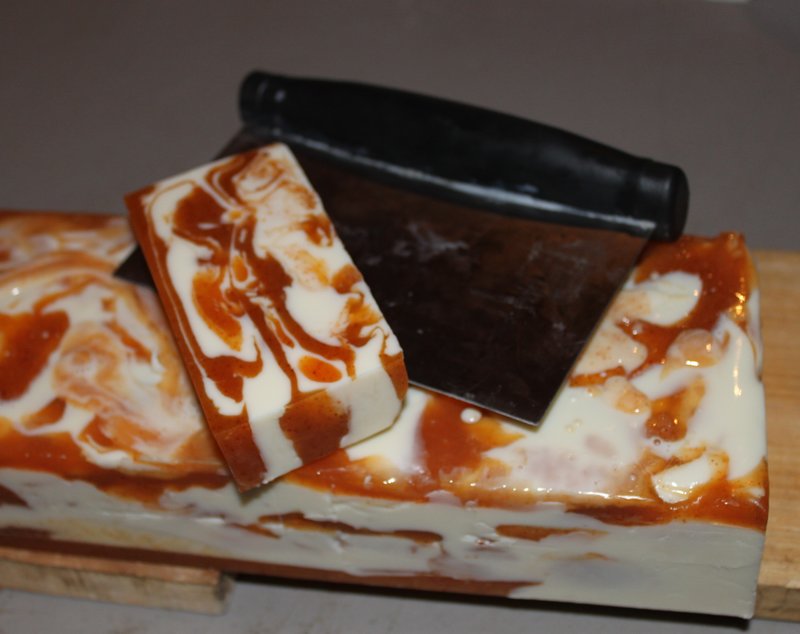 Handmade Soap By Tiffany Gregson
Above & beyond the bubbles. Handcrafted soap with multiple functions due to a large collection of natural ingredients. All our hand crafted soaps, are formulated for sensitive skin.
Our ingredients are hand selected for function, from natural bases to clays, colors & exfoliates. Soap batches are mixed & poured into a form producing a loaf. The loafs are then hand cut into individual bars 24 to a batch.
The creative artistry of each handcrafted soap, is a direct result of our own refusal to be homogenized. Creating wide selection of soaps that are unique, natural, fully functional, & beautiful as well.
Contact us we will be happy to answer any question you may have. Our soap selections & formulas are ever evolving, as we collect much-appreciated feedback from our client base.
Customized Bars of soap can be ordered & shipped in quantity.
Check out our Customize Natural Soap below for more details.
CHECK BACK OFTEN TO SEE WHAT NEW
We're more than happy to work with our customers to create soaps tailed for any special occasion. There are more possibilities than you could know. You will know more as you read our ingredient list as of now which will get longer as time goes on.
Customized bars of soap can be ordered and shipped in quantity
Our ingredients are hand selected for function, from natural bases to clays, colors and exfoliates. Our soap is hand crafted. Soap batches are mixed and poured into a form producing a loaf. The loafs are then cut into individual bars, 24 to a batch.
In the customization we'd recommend for presentation a clear base teamed with one of our opaque base for contrast in the natural colorants you may chose. Please note with the natural colorants currently on the list and future additions. That there are colorants that may have benefits for you or your's. Though I'll note no bar will ever be produced that will cure skin issues. The ingredient with a list of functions are of benefits. All of the bases being detergent free will not drain your essence & keep your skin hydrated. You may also chose from our exfoliate list from a smooth polish of the natural clay & oatmeal to some of the coarser exfoliates like seeds or coffee grounds and many step in between.
If you have a Fragrance that you would like to use in your customized soaps that is not on our list give us a call we will see what we can do.
Aloe Vera Melt and Pour - Our base has a full 5% Aloe Vera Gel in it. Aloe Vera Gel is known for its incredible healing properties (for burns and abrasions). Real Aloe Vera gel is added to our popular original clear base (which gives it a slightly greenish tint) - making a very soothing and cleansing base.
Goat Milk Melt and Pour - Goat Milk soap is believed to have skin softening properties. Our Goat Milk soap is made with real liquid goat milk as found in your neighborhood grocery store. Our goat milk melt and pour contains a full 10% refrigerated liquid goat milk. It has a delicate creamy lather. The base has a creamy custard color made with the same basic recipe as our ever-popular opaque base.
Shea Melt and Pour Base - (5% naturally crushed shea butter added) This is a white soap base with added shea butter. It gives off a creamy lather while promoting moisture and softening. Some even believe that shea butter has healing properties.
Clear Melt and Pour Soap Base - Terrific for creating your own soap without the wait involved with cold process. Melt and pour soapcasting also allows for a wide range of creativity. This clear base is much better than what you'll find at your local craft stores.
Olive Oil Melt & Pour Base - This translucent base contains a full 20% of kosher grade A Extra Virgin Olive Oil. Due to the high content of olive oil, this base has a distinctive smell and is a light attractive pale yellow that may darken slightly over time. Olive oil is known to make a soap that is both gentle and moisturizing on the skin, while providing dense, creamy lather
Coconut Milk- Thought to be high in antioxidants as well as triglycerides, making it an excellent natural moisturizer for the skin. It helps boost lather and cleaning .
Baby Buttermilk- Thought to be moisturizing and sooth delicate skin, and REAL NATURAL HONEY thought to be very high in natural antioxidants with potential anti-microbial benefits.
____________________________________________________
Natural Colors
Alkanet Root Powder- Thought to believe this part of the plant helps with skin itching. (PURPLE)
Annatto Seed Powder- They are loaded with Vitamins C, B's, and E. They contain wonderful amounts of antioxidants. (YELLOW OR ORANGE)
Basil Powder- They have been known to recommend it for improving the appearance of skin tone, redness and irritation. (GREEN)
Beet Root Powder- It is high in potassium, magnesium, iron, folic acid, Vitamins A, B6 and C. (PURPLE)
Chamomile Powder- Which is thought to contribute to natural anti-inflammatory, anti-bacterial, and muscle relaxing properties. (YELLOW)
Flax Seed Powder- Is a rich source of omega-3, 6 and 9 essential fatty acids. sooth itchy skin,
Kelp Powder- Kelp contains over 60 minerals and elements, 21 amino acids, simple and complex carbohydrates. (GREEN)
Paprika Powder- Increase blood circulation to the skin. (ORANGE)
Pomegranate Powder- Thought to include moisturizing, antioxidant, and anti-inflammatory properties.
Rose Hip Powder- High levels of linoleic and linolenic fatty acids. (RED in clear soap base)
Spirulina Powder- It has vitamins and minerals, including the B complex vitamins. ( BLUE GREEN)
Tomato Powder- Antioxidant properties, improve skin texture. (ORANGE RED)
Kaolin Clay- Skin softening and hydrating properties. (WHITE)
Rose Kaolin Clay- Skin softening and hydrating properties. (PINK or PURPLE)
Rhassoul Clay- Useful on oily, tired and sensitive skin. Contains higher levels of magnesium, potassium and calcium. Thought to be detoxifiying to the skin due to the naturally high levels of minerals found in the clay. (BROWN)
__________________________________________________________________________________________________
Essentail Oil:
Lavender- The floral and herbaceous aroma of a field of lavender
Blood Orange- Crisp and tangy citrus scrent of a freshly juiced orange with a hint of green.
Grapefruit- The perky aroma of a freshly squeezed sweet and juicy grapefruit
Tangerine- The bright citrus aroma of a freshly sliced juicy tangerine.
Tea Tree- True herbal, earthy and medicinal aroma of tea tree.
Lemongrass- A refreshing bright zip of lemon with notes of green
Geranium- Fresh floral aroma similar to rose
Citronella- Lemon-like aroma with grassy green undertones
__________________________________________________________________________________________
FRAGRANCE
Fruits: Cranberry, Black Cherry, Apple Mango, Mango, Market Peach, Pineapple, Green Apple, Raspberry, Strawberry, Sugar Plum, Ginger Peach, Pomegranate,
Banana, Passionfruit & Pineapple, Pink Watermelon Apricot
Tea: Green Tea, White Tea, Chai Tea
Floral Bouquets: True Lilac, Cherry Blossom, Chamomile, Water Orchid
White Truffle Raspberry, Chocolate, Exotic Coconut, Vanilla, Almond, Clean Cotton, Peppermint Stick, Gingerbread Cookie, Rootbeer Float
Caribbean Escape: Blend of sweet melon, raspberry nectar, italian lemon, creamy coconut and raw sugarcane.
Christmas Wreath: Deck the Halls with notes of fir, pine needles and orange.
Ginger Spice: Ground ginger and white spices blended with warm vanilla.
White Tea & Ginger: This oriental scent is a melange of citrus notes, exotic spice and beautiful jasmine.