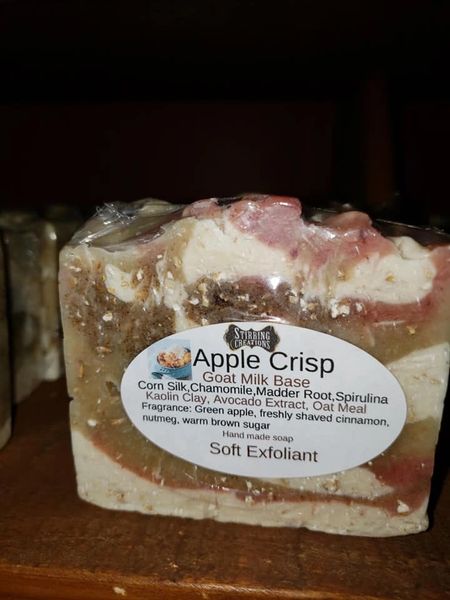 Apple Crisp
 Apple Crisp             

 OUT OF Stock

                     
This soap bar reminds one of apple picking in late September.  This handmade soap bar completes the memory when the cinnamon meets the apple! The fresh apple dumplings or apple pie rewards in the days after harvest.  Not as fruity a soap bar as our 2 other fruit fragranced soaps, Fruit Flood or Fruit Loopy, but definitely a reminder of the county fair or your own trip to the orchard.  With this soap bar, bring back memories of good times.
The following ingredients in this handmade soap bar also have beneficial functions which are noted next to the specific ingredient.
If you would like to order 4 or more bars of soap. You will save on shipping cost if you call us.
1-518-532-9482
 Goat Milk Base
Madder Root
Cornsilk
Spirulina
Oat Meal- Soft Exfoliate
Kaolin Clay: Skin softening and hydrating properties      
Fragrance: Green Apple, Freshly shaved cinnamon, nutmeg, warm brown sugar
 The soap bars are handmade and cut from a "loaf" by hand. So they vary in size and weight. The bar would weight a minimum of 5 ounces and measure 2 1/4 inches high, 1 inch thick, and 4 inches long.