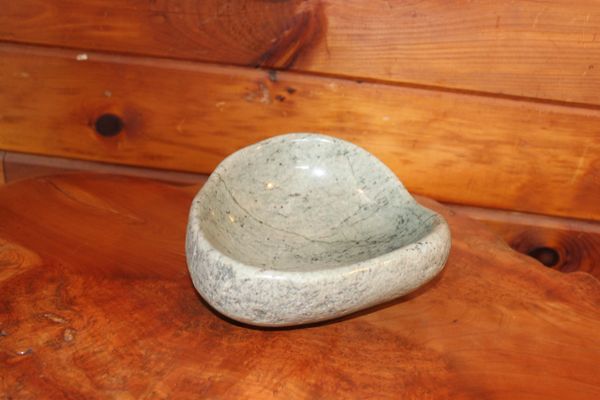 Gabro Stone Bowl
Gabro Stone Bowl
8"W x 8 1/2" L x 3 1/2" H

This bowl took 33 hours to make.
 Shipping charges can be calculated seperately for each bowl due to size and weight.  Please contact us for better/custom shipping rates than the standard charges shown in Shipping Options for Handcrafted Stone.  (518-532-9482)

  This natural field stone was picked from a sand pit in Warrenburg NY. It was shaped  in a way to maximize the merits of how well put together it is.  The exterior presents like a landscape, while the interior and the bottom are shaped and polished to 6500 grit. Our natural stone bowls are handcrafted and are beautiful works of art which will enhance any décor. 
  Natural stone bowls can also be used for candy, nuts, or fruit.  A coat of granite counter top sealer is applied and is completely buffed dry to each and every natural stone bowl we sell.