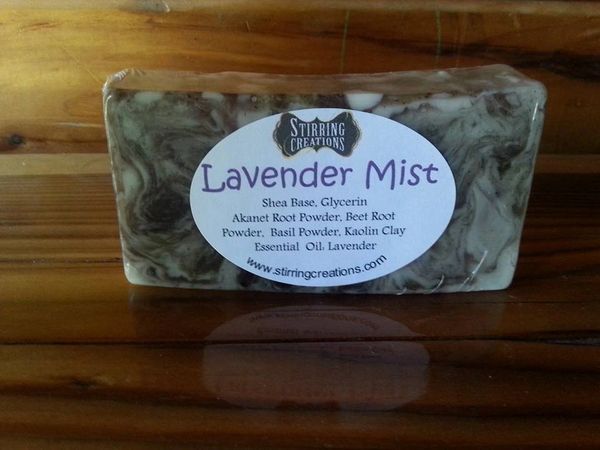 Lavender Mist
Lavender Mist
Shea Butter & Glycerin
Alkanet Root Powder: Relieves itching skin
Beet Root Powder: High in antioxidants
Basil Powder: improves skin tone
Kaolin Clay: Softening & hydrating properties  
Essential Oil: Lavender 
  One of our most popular handmade soap bars with the always popular fragrance of Lavender. Endless fields of classic lavender in bloom on a spring day. A floral and herbal bouquet.   
This truly exotic fragrance captivates the soul.  It's a perfect blend of garden of lavender.
Smell of fresh lavender will relax you after a hard day. Its soothing regal fragrance of lavender will enhance your bath or shower experience. 
The soap bars are handmade and cut from a "loaf" by hand. So they vary in size and weight. The bar would weigh a minimum of 5 ounces and measure 2 ¼ inches high, 1 inch thick and 4 inches long. 
They all fit perfectly in our line of stone soap holders.  Buy them together as the perfect gift.