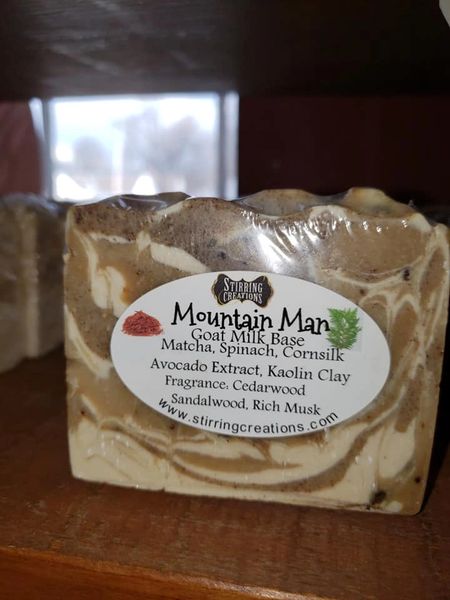 Mountain Man
Mountain Man       
   A masculine blend of cedarwood and sandalwood with rich musk. 
Goat Milk Base- made with local goat milk 
Spinach Powder
Cornsilk Powder
Matcha Powder
Kaolin Clay: Skin softening and hydrating properties
Fragrance: Cedarwood, Sandalwood, Rich Musk
Crafting high-quality handmade soap with natural ingredients is what we do best here at Stirring Creations, and we know you will agree when you try our Mountain Man soap. Made with spirulina powder, basil powder, kaolin clay, and a variety of fragrances, this soap is like nothing else you've ever used. The main components of this soap are goat milk and olive base. This soap offers a number of amazing features like its hydrating properties and the ability to improve skin tone. If you are looking for a truly unique handmade soap, we invite you to try the Mountain Man today!