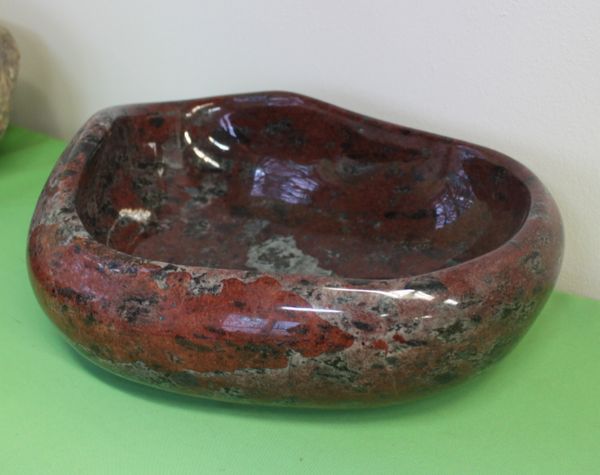 Red Anorthosite Bowl
Red Anorthosite Bowl
15"L x 12"W x 5"H  
This bowl took 335 hours to make.
   Shipping charges can be calculated seperately for each bowl due to size and weight.  Please contact us for better/custom shipping rates than the standard charges shown in Shipping Options for Handcrafted Stone.  (518-532-9482)
  Anorthosite with the rarest of the Gabro family being the red with a spot of blue on the bottom sculpted and polished 360 degree to a glass like shine.  It has some schiller in the bowl.  Found in Schroon Lake, NY
Our natural stone bowls are handcrafted and are beautiful works of art which will enhance any décor. Natural stone bowls can be used for candy, nuts, or fruit. Can also be turned in to a vessel sink.
 A coat of granite counter top sealer is applied and is completely buffed dry to each and every natural stone bowl we sell. These natural stone bowls has a small, naturally occurring metal content in the stone.