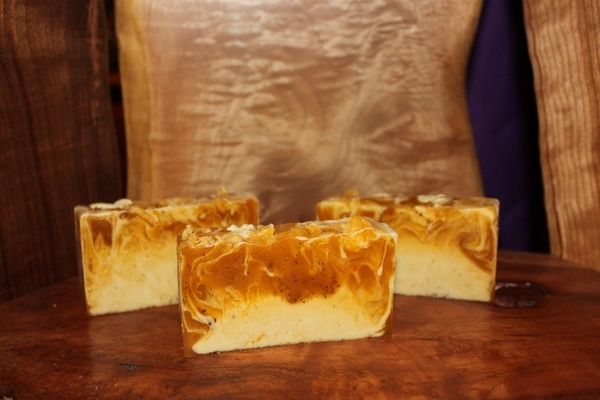 Wild One
Wild One               
 This is a down to business clean up bar, wildly fortified with
multiple exfoliates and a custom blend of the citrus family. This bar of soap
will return your hands back to their earlier state before you tuned up your car,
went fishing or weeded your garden. Great on hands and feet, this bar of soap is
a goto when life gets dirty.  It grinds and polishes the grunge while it
replaces any associated odors with a robust blend of citrus.
 Shea Butter & Gycerin
Paprika Powder: Increase blood circulation
Pumice Powder: Soft exfoliant
Acerola Powder: High in vitamin C
Kaolin Clay: Skin softening and hydrating properties
Orange Rind: Down to business exfoliant
 Essential Oils: Blood Orange, Tangerine 
It helps remove offensive odors.
If you would like to order 4 or more bars of soap. You will save on shipping costs if you call us.
1-518-532-9482

 The soap bars are handmade and cut from a "loaf" by hand. So they vary in size and weight. The bar would weigh a minimum of 5 ounces and measure 2 1/4 inches high, 1 inch thick and 4 inches long.